Hierarchical Organizational Structure of Programs & Projects
Capital projects come in all shapes and sizes and can require different domains, configurations, cost codes, governance regulations and even access to different data points maintained in a separate system.
A common denominator when it comes to running an efficient program is not only to set up but to roll up and view these projects at program or project level. This is only accomplished when a program management information solution (PMIS) is set up and driven in a hierarchical infrastructure, versus a flat one.
The Kahua platform has a built-in hierarchical structure of projects to easily define specific program or project structure at any level of detail. This allows for the ability to report for both top-down and bottom-up visibility. The power of Kahua versus other PMIS offerings is the flexibility at any level of the organizational structure.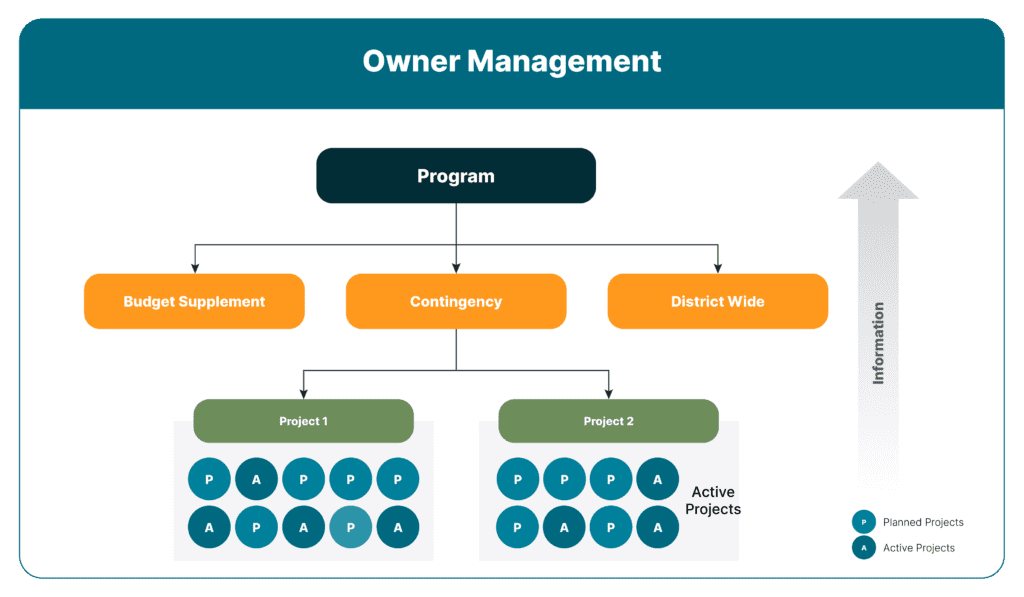 This includes multiple environments supporting unique configuration of workflows, work breakdown/activity code structure, nomenclature, templates, user security and more.
In addition, if programs alternate from working on a megaproject to a small renovation project, you most likely will not have the same workflows. The authority matrix and business rules on large, complex projects are much more layered than on the smaller ones, as the need for more robust workflows is necessary.
Users can change this configuration at any time during the project, whatever the organization needs to work in that moment without compromising the integrity of reports and dashboards. Evolve your system not just for today but anytime down the road.
Regardless of complexity or financial scope, efficiently track all information for programs and projects. Kahua makes it simple to build out a program hierarchy and manage budgets, commitments, changes and documents.
Easily view live dashboards and reports at any level of your organization's hierarchy, utilizing automatic roll-up functionality alongside drill-down capabilities, to maintain transparency and control at the level of detail you need.
Kahua lets you see what you want to see, how you want to see it.
Call Outs:
Configuration at any level of the organizational structure including:
User Security
Reports
Workflows
Forms
Budget code structure